In november doble your points
So that you can enjoy the winter sun, the NAU Hotels & Resorts Group is offering double points to myNAUmoments members for stays during November.

Exclusive for new direct bookings made until 30 November 2021 on our website or through the NAU reservations center, applicable to participating hotels.

To take advantage of this campaign, do not forget to indicate your member number!
The loyalty program myNAUmoments assures you exclusive advantages, with the best conditions to book your stay in all our hotels — in Lisbon, Alentejo and Algarve.
All
Lisboa
Alentejo
Algarve
NAU Hotels & Resorts
NAU Palácio do Governador
*****
Belém - Lisboa
Campaign myNAUmoments
NAU Palácio do Governador
5 Star hotel spa in the historical centre of Belén, Lisbon
Accommodation with buffet breakfast
NAU Lago Montargil & Villas
*****
Montargil - Alentejo
Campaign myNAUMoments
NAU Lago Montargil & Villas
The offer includes:
5 Star hotel spa with a unique location overlooking Montargil Damm
Accommodation with buffet breakfast
NAU Salgados Dunas Suites
*****
Albufeira - Algarve
Campaign myNAUmoments
NAU Salgados Dunas Suites
5 Star hotel spa with direct access to São Salgados Beach, Albufeira
Accommodation with buffet breakfast
NAU Morgado Golf & Country Club
****
Portimão - Algarve
Campaign myNAUmoments
Morgado Golf & Country Club
4 star hotel between Portimão and Monchique
Accommodation with buffet breakfast
NAU Hotels & Resorts
Campaign myNAUmoments
NAU Palácio do Governador
5 Star hotel spa in the historical centre of Belén, Lisbon
Accommodation with buffet breakfast
NAU Hotels & Resorts
Campaign myNAUmoments
Morgado Golf & Country Club
4 star hotel between Portimão and Monchique
Accommodation with buffet breakfast
NAU Hotels & Resorts
Campaign myNAUMoments
NAU Lago Montargil & Villas
The offer includes:
5 Star hotel spa with a unique location overlooking Montargil Damm
Accommodation with buffet breakfast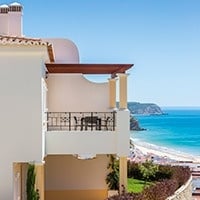 NAU Hotels & Resorts
Campaign myNAUmoments
NAU Salema Beach Village
2 and 3 Bedrooms Townhouses only 500 meters away from the beach
Self catering basis
NAU Hotels & Resorts
Campaign myNAUmoments
NAU Salgados Dunas Suites
5 Star hotel spa with direct access to São Salgados Beach, Albufeira
Accommodation with buffet breakfast
NAU Hotels & Resorts
Campaign myNAUmoments
NAU São Rafael Atlântico
5 star hotel with spa with direct access to the beach of São Rafael
Accommodation with buffet breakfast
Book here