All-Inclusive Family Vacations
Family holidays are synonymous with fun, joy and activities. They require attention to detail along with a great deal of planning and dedication. Your holiday and your family's happiness are our top priority.
NAU Hotels & Resorts are designed for families. It aims to facilitate the routine of a family with children. In the Algarve, you will find a NAU hotel that meets both your needs and your family's needs. We offer superb facilities, spacious rooms and suites, and idyllic locations along with sports and leisure infrastructure that suits your entire family. Our facilities range from golf courses to spas, from kid's clubs to entertainment programs, from swimming pools for children to fitness rooms, tennis courts and football pitches. Whatever you are looking for, you're sure to find a source of entertainment at any one of our hotels.
We offer everything you could ever dream of for an unforgettable family experience.
How to make my family happy with NAU Hotels & Resorts?
ROOMS FOR THE ENTIRE FAMILY
Space and comfort for all. Hotels designed for families just a few metres from the beach or immersed in nature, with family suites up to 4 rooms and communicating rooms for greater privacy for parents. And so that nothing is missing for your baby, cots and kettles are always available upon request.
KIDS CLUB (3-12 years old)
Amazing Kids Club inspired in the happiness of your children always supervised by specialised monitors. A sea of games and fun which stimulate the creativity and imagination, from face painting to inflatables, construction of origami, mime games, painting workshops, treasure hunts, football academy, pedipaper, traditional games, cinema sessions, mini-disco and activities in the swimming pools - everything that your children most desire - 7 days a week, from 10:00 am and, for most of the kids clubs, up to 23:00 pm.
CHILDREN'S FOOD
Food for children and babies so that you don't have to worry about anything. Wide meal times so that nothing changes in your child's routing and staff always willing to meet your child's dietary needs, in particular gluten and lactose intolerance.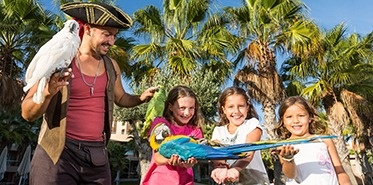 ENTERTAINMENT FOR ALL THE FAMILY
From June to September there are activities to keep families happy and fit. Animation for children, inflatables in the swimming pool, sports activities for all ages from water aerobics, aqua zumba, water polo, volleyball, yoga, pilates, stretching and football. The magic shows, the reptile and macaw performances, and the traditional markets also assure entertainment for all tastes. For parents there are also golf rounds with special prices for guests.
MUSICAL ENTERTAINMENT
At our hotels the nights are always lively with karaoke sessions, ballroom dancing shows and live performances with guest musicians which interpret the most varied styles, such as fado, jazz and pop, and tributes to singers such as Michael Jackson and Elvis Presley. The seasonal programme varies from one hotel to another, but entertainment is always assured.
HAPPY DADDIES
Just what is the worth of a cocktail sipped peacefully in the Pool Bar while you watch your children splashing in the swimming pool or the value of reading a book in a chaise-longue while they play tennis or learn to play golf, or even being able to linger calmly over dinner because you know someone is playing with them in the kids club?... Only a father knows... just how much freedom is worth.