Thiago Ventura Modo Efetivo

THIAGO VENTURA - MODO EFETIVO EM ATUAÇÃO NO PALÁCIO DE CONGRESSOS DO ALGARVE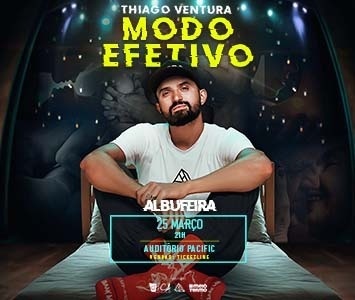 Humour is back at the NAU São Rafael Atlântico Hotel Congress Centre, in Albufeira, one of the most advanced Congress Centres in Portugal. The show will take place at Pacific Auditorium, next 25th March, at 9 p.m., with "Effective Mode". Thiago Ventura will be the protagonist of this stand-up comedy full of hilarious moments.
"Modo Efetivo" is Thiago Ventura's fourth solo show, which once again approaches the reality of the public talking about first love relationships, sexuality and everyday relationships.
The Congress Centre of the NAU São Rafael Atlântico Hotel is equipped with state-of-the-art technology, an auditorium with a capacity for 500 seats and 14 multifunctional rooms.
Some of the valences of the auditorium are: scenic lighting, translation cabin for simultaneous translation, 500 m2 flat room and 13 multipurpose rooms, air conditioning, wi-fi in all rooms and internet connection points, outdoor space for events and covered parking with 150 spaces (5 spaces for people with reduced mobility).
The auditorium's huge stage can easily host a car show, an orchestra or the most eloquent speaker. The extensive gardens provide the ideal setting for outdoor events, whether they be exhibitions, team building or of any other nature.
Buy your ticket: TICKETLINE.