Empregado de Mesa de 1ª e 2ª - Montargil
Lago Montargil & Villas *****
Alentejo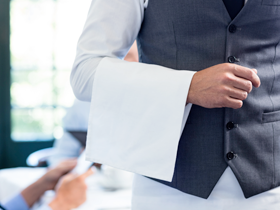 Sign up for the offer
Lago Montargil & Villas ***** (Alentejo)
Job Vacancy:
The NAU Hotels & Resorts group is hiring a Cooker 2ª for its hotel unit in Montargil - Lago Montargil & Villas.
Job Descriptions:
Serving meals and drinks to guests and customers;
Collaborating in setting up the rooms and arranging the tables;
Ensuring the cleanliness of utensils and assisting in the preparation of tasks;
Perform any preparatory services in the room, such as changing clothes;
Assisting or running the breakfast service in the rooms and other places of the establishment;
Registering and requesting from the kitchen the orders requested by the customers;
Issue bills, consumption and collect the respective amounts;
Ensure guest loyalty through a professional and proactive attitude, always seeking to anticipate and exceed guests' needs and expectations.
Requirements:
Proven experience in the area for which you are applying;
Knowledge of Foreign Languages (English - eliminatory factor);
Ease of communication;
Careful presentation;
Customer-oriented attitude;
Responsible, suitable and assiduous;
Flexible, proactive, with initiative and team spirit;
Availability and flexibility for rotating schedules and shifts.
Embrace the challenge and join our team!
Candidates should submit their application together with a Curriculum Vitae, using the form available on our website
Published on 09 de Jan. 2023