Cooker 1ª - Lisbon
Palácio do Governador *****
Lisboa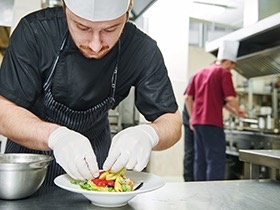 Sign up for the offer
Palácio do Governador *****
Job Vacancy:
The NAU Hotels & Resorts group is looking for a kitchen professional for its 5***** hotel unit in Lisbon - NAU Palácio do Governador.
Job Description:
Meals preparation and cooking;
Assisting in stock management and cost control;
Serve and garnish cooked dishes;
Comply with hygiene and safety standards at work;
Ensuring the cleanliness of the kitchen, utensils and equipment.
Requirements:
Proven professional experience in a hospitality environment;
Buffet and à la Carte experience;
Sensitivity in cost management and results orientation;
Good knowledge of HACCP;
Ease of movement;
Aptitude for distinctive and refined service, strongly customer-oriented;
With ease of communication, initiative and responsibility;
Strong professional aptitude for teamwork and working towards objectives;
Flexible, organised and well presented;
Full availability of schedules and shift work.
Embrace the challenge and join our team!
Candidates should submit their application using the form available on our website.
1 job vacancy
Published on 02 Jan. 2023